About
YaTQA is the premier software for managing TeamSpeak 3 instances and virtual servers.
Development started on April 10th, 2011, because none of the existing query tools worked on my computer. That resulted in the name YaTQA – Yet Another TeamSpeak³ Query App – even though it had way more features than the other tools when the first version was released on June 29th that year.
Despite the big number of features already, feature updates are released very frequently. This is because feature requests from the users are quickly implemented if they fit into the concept. Support requests and bug reports are handled very quickly as well.
YaTQA has more than 50,000 lines of code.
Where is YaTQA being used?
The following map (updated 25 Nov 2015) shows the downloads starting with YaTQA 3.4b, made with GeoLite2 data created by MaxMind, available from http://www.maxmind.com. The downloaded program does not connect to any other than your entered servers unless you are using the update checker (which will download a static file from jn-games.de), when it downloads Plink from its official website for the SSH tunnel or whenever you use Planet TeamSpeak's statistics feature.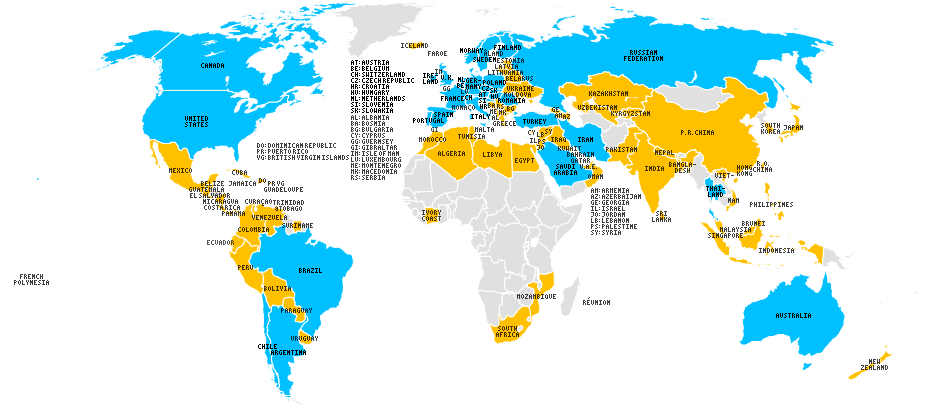 Download numbers from Germany (>⅕) and Turkey (>⅙) are far ahead of other countries, together accounting for over a third of all downloads. YaTQA is also popular in Brazil, the US, Poland, Iran, Hungary and France (decending order).
For the confusing situation in Europe, it's easier to say which countries don't have YaTQA users yet: Montenegro, Kosovo and the microstates of Andorra, Jersey, Liechtenstein, Malta, Monaco, San Marino and the Holy See.
If your country isn't highlighted and you want it to be, let me know!
Get the source code
YaTQA is written in Delphi. It compiles with no installed IDE addons on Delphi 2009 and up. If you want to help with the development on YaTQA, send me an email with as many details as possible (e.g. what you want to do, which version of Delphi you have). Source will be given to you under MS-RSL, with an option to get other licenses as well.
If you want to use YaTQA sourcecode for educational purposes, you can get the source code of YaTQA 1.4. That's the unreleased last donationware-only version. You are still asked to tell me your Delphi version.
The Author
YaTQA is being developed by me, Janni "Яedeemer" K. from northern Germany. I completed university in order to become a Maths and Computer Science teacher, but now work for an internet trading company that ships windows to customers all over Europe.
Imprint
Privacy Policy
I'm not sure how people think I could store any logs on a server with only 10 gigs of disk space, but here you go: Using YaTQA and yat.qa (and all subdomains) does not generate any data, except for counting the downloads by country and timestamp. The country is resolved once and the IP address is discarded immediately.
Needless to say, yat.qa and all subdomains do not use cookies or embed any files from third-party domains, which I'm 100% sure everyone will have already noticed, as this website clearly doesn't offer you the "best user experience" that is "only possible through the use of cookies" and at least 20 different tracking services.
German Impressum
(Stuff required by German law.)
Verantwortlich für den Inhalt gemäß § 55 RStV: