YaTQA Support
Find your problem in the image below and follow the corresponding instructions step by step: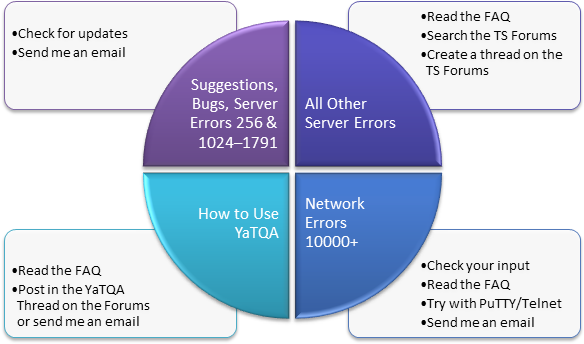 Details on the steps:
Read the FAQ: The FAQs answer nearly all questions that have been asked to far.
Check for updates: This can also be done in the program and can be configured to be done on each startup.
Search the TS Forums: Server errors (except for 1537–1543) are never caused by YaTQA but usually caused by server misconfiguration. Please search the TeamSpeak Forums, as you are most likely not the first one to have them.
Create a thread on the TS Forums: If you couldn't find a solution for your server error, please create a thread in that forum. Anything related to permissions should go to the permissions forum. Please provide all information from the error message.
Post in the YaTQA thread on the forums: The YaTQA thread is great for asking questions on how to use YaTQA. There are some users who can help you, along with me.
Check your input: Check your IP for spaces. If you're not hosting your server yourself but rented it somewhere, please ask your host for the query port.
Try with PuTTY/Telnet: YaTQA is simply a graphical interface for the TS3 query interface. You can also use the query interface using its default command line interface. Many people like PuTTY for that, but Windows ships with a Telnet client, too. On Windows NT 6 and up, it must be enabled first, while Windows XP has it enabled by default. To use the Windows Telnet client, open the command box and enter telnet IP Port. If you can use Telnet or PuTTY to access your server's query interface, please send me a message. If not, search the TeamSpeak forums or create a thread over there.
Contact me: Only messages in well-written English or German will be answered. Contrary to popular belief, Google Translate does not produce well-written text, and there is no excuse for not being able to speak English. As you can see from the FAQ, there is a common misconception about what is related to YaTQA. See the above for details on what is related to YaTQA and what is not. Because this is a common misconception in Brazil, I want to point out that Portuguese and English are different languages. (I'm just too lazy to geoblock this new website like I did with the old one. I'm now blocking translation software from translating this page, but if that doesn't work, I'll be geoblocking it for Brazil once more.) For the following topics, I only reply to messages that include at least the given information:

Error messages: Verbatim message text (can be copied using Ctrl+C), YaTQA version, server version and what exactly you did.
Request a free key: Why do you want it for free? Name your company and any of your company's locations at TeamSpeak USA. You must either send that email from an email account with the domain in your profile or there must be an email address on the given website. If you provide the required information, I'll be happy to give you a free key. I just want to prevent abuse.

Also, I don't reply if you obviously ignored my last reply (e.g. did not provide requested information), use flashy formatting, use tracking or sent me too many emails.


Send me an email: To get my email address, concatenate "support" with with an "@" and this domain. Emails will usually be answered within a day (creating a license usually takes longer), but sometimes even within some minutes.
Send me your TS3 server IP: Good for complicated support stuff. But please tell me the topic in your request and when you want me to visit you (including timezone). Listing my own server's IP here caused an influx of Brazilians molesting a friend's girlfriend, so you have to send me yours.
Twitter @numma_cway: That's my personal Twitter account. Don't mind the German trash TV talk. I know it doesn't look professional at all, that's why I don't link it here. Only send me a single direct message with all information. Mentions no longer work.
TeamSpeak forums: Please do not send me private messages on the TeamSpeak forums. PM quota is very limited and emails are easier to answer on my phone (which means your get your answer faster). You can use the forums' email feature, but why on earth wouldn't you just send me an actual email?