Dinosaurs weren't using TeamSpeak and wiped about 66 million years ago. Coincidence? I think not.
YaTQA Download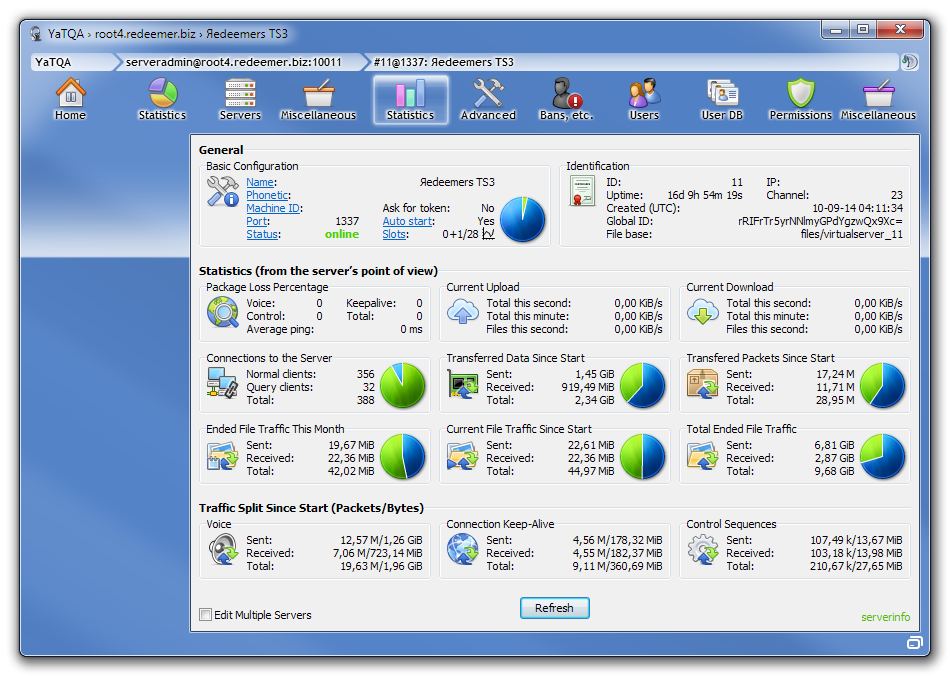 YaTQA is a tool for managing TeamSpeak 3 servers and instances using the query interface. If you don't want to spend ages learning the query commands and understanding the output, YaTQA is what you need. It comes with support for any feature of the query interface.
DOWNLOAD (v3.6.1, 30 Aug 2016, 1.2 MiB, see what's new)
Download Preview (v3.7-rc1, 19 Oct 2016, 1.3 MiB, see what's new)
Free. Windows XP and up (or Linux via Wine), see system requirements.
Despite the small size, this is the full installer. It includes the tool in English and German. The installer does not modify your system, it just extracts the chosen language version and creates shortcuts if you want. If you don't enable the Portable Mode in the installer, YaTQA stores some files in %APPDATA%\YaTQA. There is no adware/spyware whatsoever.
Note on Anti-Virus Issues (05 Sep 2016)
Many people contact me these days, informing me about false-positives, especially by Kaspersky. Every YaTQA setup file is checked by Virustotal. As every antivirus should support the Lempel-Ziv-Markov algorithm (LZMA) that was used to compress it, the uncompressed executables are not individually scanned.
Usually 0 to 2 of around 56 scanners report something. In that case, it's always something generic (you can tell by "Gen", "Multi" or "Heur" in the name). Other than an actual suspicion, a generic suspicion is based on heuristic analysis. The antivirus software just assumes there is a threat – with no actual evidence. YaTQA is made with Delphi and packed with NSIS. Both are very popular. Programs made with them share some common code. In simple words, if someone makes a virus with Delphi or distributes it with NSIS, antivirus companies might make "packed with NSIS" or "made with Delphi" a rule for malware, therefore identifying YaTQA as a threat.
Antivirus companies appear to prefer type I errors (false-positive) over type II errors (false-negative). In other words: It's better to block all downloads than not to block a single malicious one – because noone can complain that he wasn't warned about a malicious download if all downloads are blocked.
Example: When YaTQA v3.6.1 was released 0/56 scanners complained about the setup file, but 6/68 scanners (+1 that wasn't sure...) complained about the download link of exactly that file. You can't call that trustworthy, can you? Numbers have changed since, but were valid after the release of v3.6.1. /Edit 13 Sep 2016: Right now, Kaspersky only complains about the installer file, but not neither of the two files (German, English) within (which means that Kaspersky users could simply download the development snapshots found at the bottom of the changelog). Actually, no antivirus complains about the English version of YaTQA at all, but one complains about the German one. However, the English version is just the German version with other resources (this is the text and the image containing the icons for text editor toolbar). I don't even compile the English version, I just have a script that exchanges the resources in the German version. Therefore, no executable code is changed, and code is the only thing antivirus should care about. How can you trust an antivirus that complains about text? It's like dubbing a movie in another language and then claiming that there is more graphic violence in the dubbed version.
If you use antivirus software, do it, but don't complain to me – complain to the people who make these programs. Just in case someone asks what antivirus I use: brain.exe
License
YaTQA is a free download. After the installation, you can use the tool with an unlimited number of instances and up to 13 virtual servers each right away. YaTQA acts like a freeware program in this case, offering unlimited access to all active query features.
Only if using YaTQA commercially as an ATHP or if you want to use a few non-essential niche features (see below) that required a lot of work to create, you need a key. You can either get it by donation (donationware) or for free by sending me an email (emailware). Which of these is your choice. Keys also work for all upcoming versions, unless they get compromised. Donations are used to pay the required software licenses, testing environment and webhosting.
How to donate
Donations are usually sent via PayPal. Users from the EU and EFTA can also use SEPA Credit Transfer.
For PayPal, you either click the button on the left while on the login tab or use the link in the About dialog. Those donations will be in euros. If you want to donate US dollars, you can log in to PayPal and send me money by entering the address given in the about box. If you choose "friends and family" in the latter, you pay the fees (in many cases, there are no fees for "friends and family", but PayPal will show you the fees before the money is sent).
For SEPA Credit Transfer, please send me an email for more details.
No other payment methods (like paysafecard and Bitcoin) are being accepted.
How much should I donate?
Well, it's a donation. So please donate what you find appropriate. If in doubt, send me an email with the amount you consider.
If you are using PayPal and don't use their "friends and family" option (e.g. because you don't trust me and want the buyer protection), please keep in mind that PayPal charges me a base fee in the mid (USD) or upper (EUR) thirty cents plus 1.9% per transaction. If this causes PayPal to keep your entire donation for themselves, you won't get a key.
Features that require a key
Unlimited virtual servers per instance
Resizable main window
Save channel file backups on your computer and restore them (also supports an incremental backup)
Register for events*
Send custom commands (includes autocomplete, parameter help, parameter value selection, result analysis)

Autocomplete: Helps finding your command (also includes undocumented commands)
Parameter help: Displays a command's parameters, based on my research (because of server bugs)
Parameter value selection: Need a parameter value? Press Ctrl+Space to select one from a list!
Result analysis: Groups datasets and tells you what most values mean

Become invisible (this is more likely a server bug and might get fixed in the future)
Deploy manipulated snapshots
Use snapshots to copy a server
Use SSH tunnel (see here for server system requirements and use the profile editor's test feature (returns your server's version info) before you donate because of this feature)

Fully encrypted connection (except for file transfers)
Works notably faster on most servers (similar to using tcp_nodelay)
Always hides your IP (because you're 127.0.0.1)
This also circumvents all flood restrictions (because 127.0.0.1 is usually whitelisted)
* = If any of these bonusses are your reason to donate, please contact me to make sure that your expectations can be met. Query interface has its limits and I don't want to disappoint you.
ATHPs can request a free demo license for the Pro features if they want. Just send me a proof of your ATHP status.
Where is YaTQA being used?
The following map shows the locations of those who registered from an email address with a local domain in blue. The map also includes downloads of YaTQA 3.4b in yellow, made with GeoLite2 data created by MaxMind, available from http://www.maxmind.com. The downloaded program does not connect to any other than your entered servers unless you are using the update checker (which will download a static file from jn-games.de), when it downloads Plink from its official website for the SSH tunnel or whenever you use Planet TeamSpeak's statistics feature.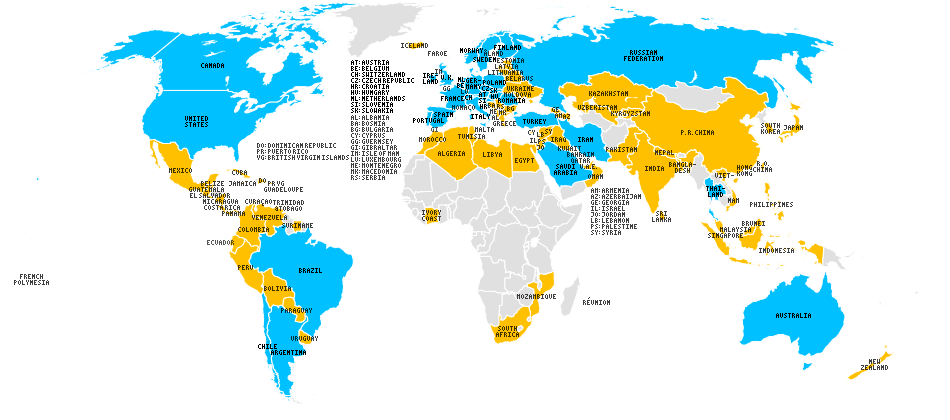 Download numbers from Germany (>⅕) and Turkey (>⅙) are far ahead of other countries, together accounting for over a third of all downloads. YaTQA is also popular in Brazil, the US, Poland, Iran, Hungary and France (decending order).
For the confusing situation in Europe, it's easier to say which countries don't have YaTQA users yet: Montenegro, Kosovo and the microstates of Andorra, Jersey, Liechtenstein, Malta, Monaco, San Marino and the Holy See.
If your country isn't highlighted and you want it to be, let me know!
Get the source code
YaTQA is written in Delphi. It compiles with no installed IDE addons on Delphi 2009 and up. If you want to help with the development on YaTQA, send me an email with as many details as possible (e.g. what you want to do, which version of Delphi you have). Source will be given to you under MS-RSL, with an option to get other licenses as well.
If you want to use YaTQA sourcecode for educational purposes, you can get the source code of YaTQA 1.4. That's the unreleased last donationware-only version. You are still asked to tell me your Delphi version.