About
YaTQA is the premier software for managing TeamSpeak 3 instances and virtual servers.
Development started on April 10th, 2011, because none of the existing query tools worked on my computer. That resulted in the name YaTQA – Yet Another TeamSpeak³ Query App – even though it had way more features than the other tools when the first version was released on June 29th that year.
Despite the big number of features already, feature updates are released very frequently. This is because feature requests from the users are quickly implemented if they fit into the concept. Support requests and bug reports are handled very quickly as well.
YaTQA has more than 50,000 lines of code.
License
YaTQA is a free download. After the installation, you can use the tool with an unlimited number of instances and up to 13 virtual servers each right away. YaTQA acts like a freeware program in this case, offering unlimited access to all active query features.
Only if using YaTQA commercially as an ATHP or if you want to use a few non-essential niche features that required a lot of work to create, you need a key. You can either get it by donation (donationware) or for free by sending me an email (emailware). Which of these is your choice. Keys also work for all upcoming versions, unless they get compromised. Donations are used to pay the required software licenses, testing environment and webhosting.
How to donate
Donations are usually sent via PayPal. Users from the EU and EFTA can also use SEPA Credit Transfer.
For PayPal, you either click the button on the left while on the login tab or use the link in the About dialog. Those donations will be in euros. If you want to donate US dollars, you can log in to PayPal and send me money by entering the address given in the about box. If you choose "friends and family" in the latter, you pay the fees (in many cases, there are no fees for "friends and family", but PayPal will show you the fees before the money is sent).
For SEPA Credit Transfer, please send me an email for more details.
No other payment methods (like paysafecard and Bitcoin) are being accepted.
How much should I donate?
Well, it's a donation. So please donate what you find appropriate. If in doubt, send me an email with the amount you consider. Or ask for a free key.
If you are using PayPal and don't use their "friends and family" option (e.g. because you don't trust me and want the buyer protection), please keep in mind that PayPal charges me a base fee in the mid (USD) or upper (EUR) thirty cents plus 1.9% per transaction. If this causes PayPal to keep your entire donation for themselves, you won't get a key.
Where is YaTQA being used?
The following map (updated 25 Nov 2015) shows the downloads starting with YaTQA 3.4b, made with GeoLite2 data created by MaxMind, available from http://www.maxmind.com. The downloaded program does not connect to any other than your entered servers unless you are using the update checker (which will download a static file from jn-games.de), when it downloads Plink from its official website for the SSH tunnel or whenever you use Planet TeamSpeak's statistics feature.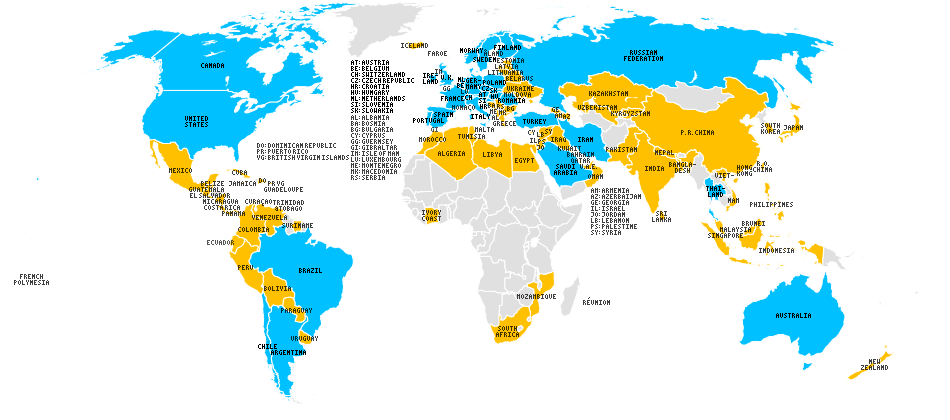 Download numbers from Germany (>⅕) and Turkey (>⅙) are far ahead of other countries, together accounting for over a third of all downloads. YaTQA is also popular in Brazil, the US, Poland, Iran, Hungary and France (decending order).
For the confusing situation in Europe, it's easier to say which countries don't have YaTQA users yet: Montenegro, Kosovo and the microstates of Andorra, Jersey, Liechtenstein, Malta, Monaco, San Marino and the Holy See.
If your country isn't highlighted and you want it to be, let me know!
Get the source code
YaTQA is written in Delphi. It compiles with no installed IDE addons on Delphi 2009 and up. If you want to help with the development on YaTQA, send me an email with as many details as possible (e.g. what you want to do, which version of Delphi you have). Source will be given to you under MS-RSL, with an option to get other licenses as well.
If you want to use YaTQA sourcecode for educational purposes, you can get the source code of YaTQA 1.4. That's the unreleased last donationware-only version. You are still asked to tell me your Delphi version.
Imprint
Privacy Policy
Using YaTQA and yat.qa does not generate any data, except for counting the downloads by country.
German Impressum
(Stuff required by german law.)
Verantwortlich für den Inhalt gemäß § 5 TMG: